MAINTENANCE OF YOUR BALUSTRADES
HOW TO MAINTAIN YOUR STAINLESS STEEL
Stainless steel is extremely popular and robust. It will last a lifetime if maintained properly. In coastal regions such as on the Sunshine Coast, the salts in the atmosphere can affect the steel. We therefore only use 316 grade steel which is resistant to corrosion and UV light. However, tea staining can occur in some circumstances but this is not rust and can be easily removed with a good tea-stain remover. Some general tips when cleaning:-


Rinse stainless once a week with water
Then about every 6 months:


Use a soft cloth to remove oil or grease and use soapy water

Don't use any products that contain bleach and avoid harsh cleaners or steel pads which may scratch the surface.

Stainless steel polish is available to maintain a shiny finish.
REJUVENATING KIT
For surfaces that have been neglected for long periods then there are rejuvination kits available.
HOW TO MAINTAIN THE APPEARANCE OF POWDERCOATED ALUMINIUM
Maintenance of powdercoated balustrades is very low.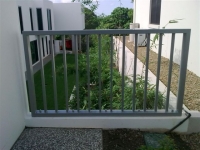 Simply use a soft bristle brush to clean the surfiace with a mild soapy detergent and warm water. Again no scrubbing which could scratch the surface.
FAQ's
What is the difference between Stainless Steel & Powdercoated Aluminium?
Stainless Steel
Stainless steel gives a modern sleek feel and together with its robust strength offers a supreme Pool Fence solution. We only use 316.1 stainless steel for pool rails and access ladders, due to the harsh chemicals used in pools.T his grade ensures no rusting and minimal maintenance to ensure the longevity of your pool fence. We also use a mirror finish on outside balustrades to ensure a smoother & shinier finish. This finish is more resistent to tea staining and it also ensures that your balustrades will continue to gleam.
Powdercoated Aluminium
This is a cheaper alternative - as it is doesn't have the just the same strength that stainless steel has, however, it is still extremely strong and by no means compromises the safety and durability of your fence.In fact it is extremely popular due to its cost, quality ability to colour match to Dulux colour range and its minimal maintenance required. (Please see our Maintenance & FAQ's page by clicking here for further information)


How thick are the glass panels?
They vary from 8mm-12mm depending on the job/area. Frameless pool fencing for eg. has to have 12mm where as with commercial we can use any size up to 15mm.
I have children - will the glass be strong enough for on a balcony or a pool ?
Yes - all our glass is clear toughened safety glass which is extremely strong and impact resistant. It has to be to comply with the Australian Standards.
Do you offer Standard size panel widths?
Yes
Do you offer custom widths?
Yes, we as we manufacture all our products in our factory we can fully customise it to meet your requirements.
What are the posts made out of?
Sunshine State Balustrades can provide either aluminium or stainless steel which are treated prior to being powdercoated to prevent corrosion.
What colours are available?
We use the full range of Dulux powdercoating colours, which therefore enables you to match to your colour scheme.
I currently have a pool and pool fence and want to completely change the fence, would I need to apply for a permit?
Yes you need to contact your local council www.poolfencing.qld.gov.au for further information. Sunshine State Balustrades will need a copy of the permit prior to undertaking any construction. However, due to our experience and knowledge of pool fencing laws, etc we can discuss your requirements to give you an idea of types of designs, costs, etc.
I am not sure whether I require any balustrade?
Any floor height equal to or greater than 1000mm requires a certified 1000mm high balustrade.
Can I have horizontal bars or horizontal stainless steel wires as a balustrade?
Yes - although if the fall is more than 4000mm from the surface below to the proposed floor height, then no 'climbable' element is allowed in that balustrade between 150mm and 760mm (which includes all horizontal bars and stainless steel wirs).
Is the work guaranteed ?
Yes, we are BSA certified which gives you peace of mind knowing that you are dealing with professionals who are registered. All our work is guaranteed provided that products are maintenance appropriately.
TESTIMONIALS
Chris & Andrew
We would just like to thank you for constructing our pool fence. The pool fence is absolutely beautiful and makes our outside area look modern & sleek and we are able to take advantage of our decorative features. The amount of comments we have had from friends, of whom I have recommended you to them. Thank you
We would also like to thank you for completing the job on time - just in time for when our family were coming to stay with us which when you said it would be achieved. Nothing was too much trouble - even advising us of various options available to us, we are very greatful and definitely feel that it has been money well spent.
Many thanks again
Mr & Mrs Higginson, Buderim
Hi Andrew & Chris
Just a small e-mail to thank you for the steel wire balcony which you recently completed. It looks fantastic. Thank you for going that extra mile in completing it in such a short time period, really appreciated. Please feel free to use any pictures to show prospective customers and include them on your website if you want.
Many Thanks
Mr & Mrs Thomas, Caloundra
We feel word of mouth works best and for this reason are offering our the following bonus.


Customers who have referred any family, friends, or colleagues (who then make a purchase over $3000 with us) will be rewarded with $50 cash.
Thank you for Visiting the Site and in anticipation of doing business with you.
Make the Smart Choice and call Sunshine State Balustrades Today for a
No obligation Free Quote
CALL 54378816
http://www.ssbalustrades.com.au/contact.php