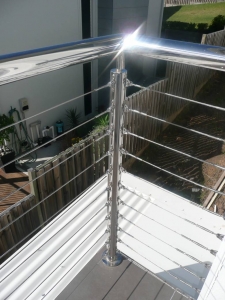 ....Click Here To View Our Gallery....
Handrails & Balustrades
Handrails and Balustrades come in a choice of Stainless, Aluminium, or Glass. So whether you are just requiring a handrail to serve a purpose of safety or if you want to add that touch of designer elegance which stainless and glass can bring then speak to Sunshine State Balustrades today and make the Smart Choice.
Metal & Glass give a home or commercial building an instant designer finish; by combining the clear lines with the sleek industrial materials - giving a feeling of space, light and timeless beauty whilst being robust.
All our glass is toughened safety glass, which is extremely strong and impact resistant and meets (exceeds) Australian Standards AS/NZ 2208.
Aluminium & Stainless Steel can be further broken down:-
ALUMINIUM POWDERCOATED:-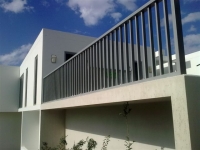 Picket Fence

Framed Glass


STAINLESS :-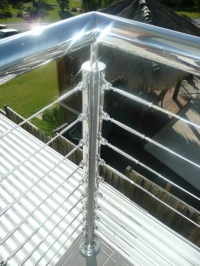 All Stainless

Stainless & Glass

Stainless & Wire